The only True Native No Code Salesforce Integrations Platform
Low on Effort, High on returns
Schedule a Demo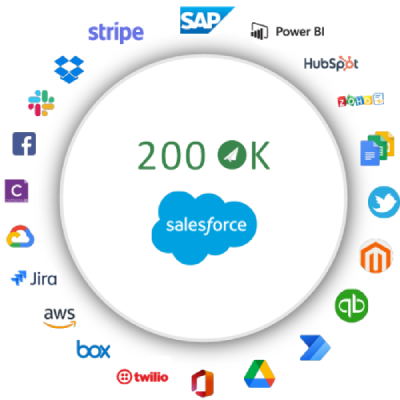 No Code Platform
This exceptional platform brings a remarkable offering of 100% no-code capabilities, allowing users to seamlessly integrate various applications within the Salesforce ecosystem without any coding expertise.
Data Virtualization
By leveraging data virtualization, you can seamlessly access and utilize data from various sources without physically replicating or storing it within your Salesforce org that provides on-demand access to relevant data.
Multiple Integrations
Integrate no-code tools like Integromat, Power Automate, Automate.IO, Zapier, Mulesoft, AWS API Gateway, Google Function for client-side execution, bypassing API limitations and payload size constraints.
Why 200 OK?
200 OK is an advanced integration connector specifically designed for developers, admins, and smart business people to connect Salesforce with external cloud-based solutions and APIs without coding.
Seamless Integration
Integration of external apps and APIs with Salesforce is a challenging task to do. 200 OK brings the ease of connecting the applications seamlessly with Salesforce. This Integration connector resolves all your pain points with its robust admin and business-friendly characteristics
Reliable Partner
Reliable Partner comes with an encryption format that keeps your sensitive data highly secure and confidential.
Install
Install the App in the Salesforce Org.
Create
create the Integration channel.
Setup
DML, Platform events, Triggering another integration channel
Done
Now It's Ready to trigger from Flows, API, Apex, PB, and LWC
Popular Integration Connectors
200 OK for Solandra The level of development effort, administration and complexity related to typical API development would have been costly and time consuming if we had not utilized 200 OK. We have used 200 OK to integrate Microsoft Power Bi with ease, security and control. I would recommend others to explore 200 OK and reap the benefits of a no-low code integration platform reducing development time and costs.
Finally our wait is over with 200 OK, No Code integration platform for Salesforce 200 OK is a highly configurable, easy to use and can connect to almost any API based services. We have connected RazorPay payment system, Social channels, WhatsApp & telephony services. I would say it is a game changer app and I would recommend this solution to others to save valuable time and money!
A game-changer for API integrations
With 200 OK - Now we can connect any external systems bi-directionally natively without writing any code. Although the documentation was not fully written-out at first, the support team was extremely responsive and patient and got me up and running with my first inbound and outbound integrations in no time at all.