Connect your Apps with Salesforce & Automate your Business Operations
200 OK lets you integrate external business apps and APIs with Salesforce without requiring any coding.
Get Started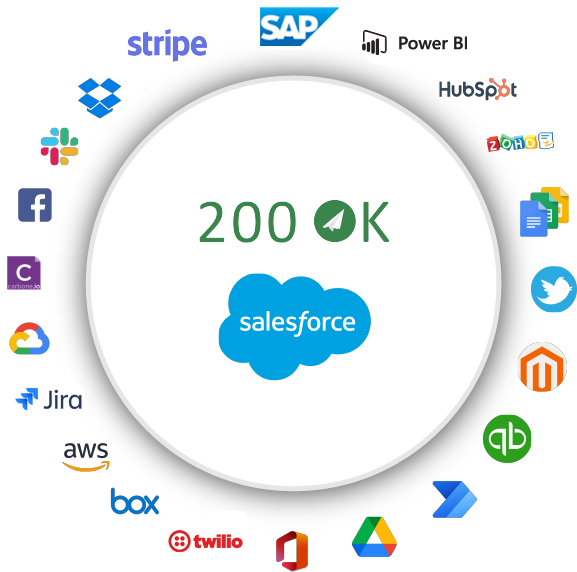 The Advanced Integration Connector
200 OK is an advanced integration connector specifically designed for developers, admins, and smart business people to connect Salesforce with external cloud-based solutions and APIs without coding.
Why 200 OK?
Integration of external apps and APIs with Salesforce is a challenging task to do. 200 OK brings the ease of connecting the applications seamlessly with Salesforce. This Integration connector resolves all your pain points with its robust admin and business-friendly characteristics.
Easy
No coding. The easy-to-use drag and drop interface is designed to keep non-technical users in mind.
Trusted platform
A trusted platform used by numerous organizations right from small startups to big MNCs
Reliable Partner
Comes with an encryption format that keeps your sensitive data highly secure and confidential.
Install
Install the App in the Salesforce Org.
Create
create the Integration channel.
Setup
DML, Platform events, Triggering another integration channel
Done
Now It's Ready to trigger from Flows, API, Apex, PB, and LWC
Popular Integration Connectors
Tim Marchington
Solandra
,
200 OK for Solandra The level of development effort, administration and complexity related to typical API development would have been costly and time consuming if we had not utilized 200 OK. We have used 200 OK to integrate Microsoft Power Bi with ease, security and control. I would recommend others to explore 200 OK and reap the benefits of a no-low code integration platform reducing development time and costs.
Sachin Gupta
MRE LLP
,
Finally our wait is over with 200 OK, No Code integration platform for Salesforce 200 OK is a highly configurable, easy to use and can connect to almost any API based services. We have connected RazorPay payment system, Social channels, WhatsApp & telephony services. I would say it is a game changer app and I would recommend this solution to others to save valuable time and money!
Nadim Lahoud
Red Sift
,
A game-changer for API integrations
With 200 OK - Now we can connect any external systems bi-directionally natively without writing any code. Although the documentation was not fully written-out at first, the support team was extremely responsive and patient and got me up and running with my first inbound and outbound integrations in no time at all.