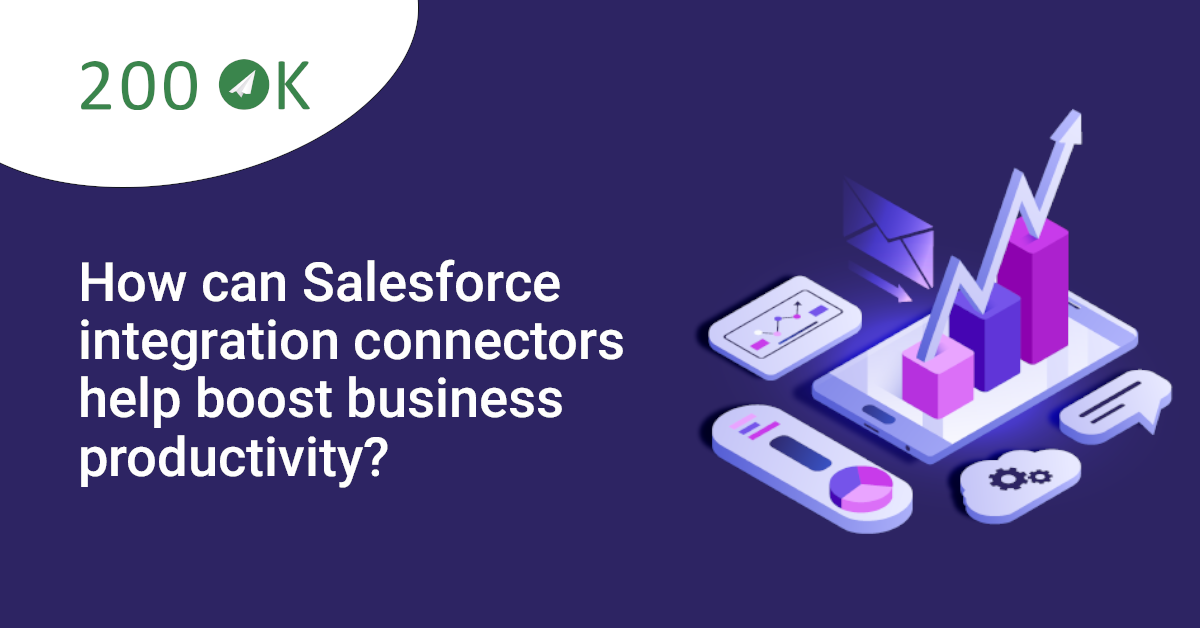 How can Salesforce Integration Connectors help boost business productivity?
Salesforce has become a very relevant and popular CRM software among various businesses, including those from Fortune 500. Since businesses are always looking to enhance their efficiency and smooth their process, integrating their external applications with Salesforce Integration Connectors is considered to handle and execute such activities with ease.
You need to seamlessly integrate data across your marketing, operations, services, and e-commerce platforms to fully revolutionize your customer and prospect interactions and make the best use of your Salesforce org.
What is Salesforce Connect?
Salesforce Connect allows users to display, search, and modify data stored outside of your Salesforce org, allowing for seamless data integration across system boundaries. 
Salesforce Connect takes advantage of a feature called external objects, which are similar to custom objects on Salesforce but the difference is that the data is stored in a different system. 
External objects are defined in the same interface as custom objects in Salesforce. On the other hand, an external object definition comprises the external link to the system that stores the object data. Salesforce Connect uses a variety of authentication settings to gain access to external objects.
When to use Salesforce Connect?
Salesforce Connect accesses data on-demand and in real-time, rather than copying it into your Salesforce org. Only the data that you require is accessed, and outdated data is never accessed. 
Salesforce Connect can be used when: 
You want to display, search or modify data stored in an external system.
You want to avoid duplicate data storage in Salesforce.
You need small amounts of data at any one time.
You always want to be able to access the latest data from an external system.
You want real-time access to the latest data.
You want to access the retrieved data like a Salesforce object.
There are multiple approaches by which you can connect an external system utilising Salesforce Connector:
Cross Org API: It is used to connect one Salesforce system with another. An example would be integrating data from distinct Salesforce orgs to give your service personnel a uniform view of client transactions.
File Connect: It is used to connect Salesforce with some other file management system like Google Drive.
ODATA Adapter: It is used to integrate external data sources into your org that support the ODATA protocol and publish an OData provider. An example would be giving your account executives a single data view by pulling data in real-time from legacy systems like SAP, Microsoft, and Oracle.
Salesforce Connect Adapter for Amazon DynamoDB: It is used to integrate AWS data natively with Salesforce business applications.
Make the most of your Salesforce investments in 2022
1. Increased Productivity
Since data can be accessed from external applications using Salesforce Integration Connectors, it makes it easier for different departments in a company to do their task.
Let's say your company makes use of both QuickBooks and Salesforce. Your sales reps now require data from both systems to do their tasks. Isn't it preferable if your sales rep has access to all of Salesforce's data? This will allow him to spend less time switching between the two systems. It will also enable him to do his work at a faster rate.
2. Provide a single point of access to multiple systems
Salesforce Integration Connectors allow users to process data from one system into another. Because the data is synchronized, everyone on staff has all of the information they need and doesn't have to switch systems – which usually means C-level executives, customer service representatives, and anyone else who needs data.
3. Improved Communication
Information can be amplified beyond teams by integrating Salesforce Connectors. Since all the teams of a company have access to the same data, they don't have to unnecessarily communicate with each other for every minor inconvenience. 
4.  Enhanced Sales
Your Salesforce org is enhanced with data from a variety of cloud applications and on-premises systems, including SAP, Oracle Eloqua, and NetSuite to provide you with a trusted, holistic view of your customer. This in turn helps your sales and service teams to optimize campaigns, develop customer connections, and personalize prospects with greater insights. Hence, increasing your sales and ROI.
5. Save time and money by avoiding costly mistakes
Even using the copy and paste technique, any regular data entry can result in mistakes. Employees have to physically enter the same data into many systems when a company's operations are dependent on multiple platforms. This increases the risk of data duplication and inaccuracies.
A well-implemented Salesforce Integration project includes automatic checks and stabilization to assure fully integrated systems with consistent data throughout. This not only avoids any errors but also saves time, which can now be utilized to focus on more important things.

List of 10 best Integration connectors for Salesforce to install in 2022
Zapier

Boomi

Blendo

Celigo

Informatica

Commerciant

Fivetran

SnapLogic 

Workato

To Sum Up
Salesforce Integration Connectors make it easier to increase sales and customer service productivity. This allows the organization to expand its business by providing better quality support in all aspects of finance, sales, and customer service. Optimize your Salesforce org today with Salesforce connectors! 
Try 200 OK, an advanced integration connector that lets you connect external applications, and APIs with Salesforce. Moreover, it helps you automate your business operations. 200 OK comes with advanced features and functionalities that makes the integration easier and simpler even for a non-tech person. To know more about it, get in touch with our experts today. We'd be glad to hear from you.
---